About Us
Overview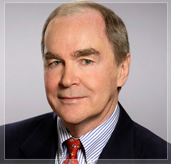 Our firm was established in Wilmington, Delaware, in 1995.  We have nursed many hundreds of good companies back to financial health since that time.  In the process, we have made great friends and saved jobs, life savings, creditor relationships and even marriages.
My name is Ken Thomson, company co-founder.  My bachelor's degree is in dairy science from the University of Wisconsin.  I have post-graduate degrees in agricultural business and public administration from London University – Wye College and Queen's University, Canada, respectively.  This may be background, but my real business education is as an entrepreneur.  This started when I formed my first company in 1989.
I thought I knew it all before starting out in that initial venture.  But nothing prepared me for this exhilarating, frustrating and ultimately terrifying path.
This business lasted only three years before it died a slow and lingering death.  In the end, we spent much of our time addressing creditors' needs and too little on business development.
I learned the hard way.  Our painstakingly thorough business plan incorporated conservative revenue projections.  But this didn't help.  We should have had a crystal ball, because we set out at the wrong time – at the start of a major recession.  And it became relentless in its impact on our target market's spending habits.
It became a real challenge to build sufficient sales for a new and innovative product line and service that was way ahead of its time.  Truth be told, I was so sure of customer acceptance – and so bubbling with enthusiasm about a positive outcome – that I should have given more consideration to the prospect of dark clouds on the horizon.
The hassle was enormous and it drained our energy.  Our accountant and attorney were of little help in providing the kind of advice and services that we needed to survive.  We were left exhausted.  But we learned some hard-won, valuable lessons.
The knowledge gained in this experience, together with considerable self-reflection, drove me to start our business turnaround management firm in 1995.  We changed the corporate name to Biz911 in 1999, to reflect the emergency nature of our services.
We are motivated to take the pressure off you and your business.  I wanted to provide the professional small business debt relief and business turnaround management service that I had needed myself a few years before, but could never find.  As a result, our firm was designed from the start to address the whole gamut of problems that struggling business people encounter.
Broadly speaking, companies facing tough cash flow shortages need to immediately stop the bleeding and increase revenues.  Easier said than done, when lawsuits are flying and the sheriff is knocking at your door.  But completely feasible, when you have the right kind of help.
We have found, time and again, that business owners become so involved in the daily hassles of "doing it," that they forget to step back and look for productive solutions to their problems.  Such as simple, practical ways to streamline management and eliminate chaos.  Or cost-effective ways to bring in lots of new business.
We "get it."  And the heavy-duty processes we developed to grow troubled businesses work just as well for firms that are not in danger but simply want to accelerate their profits.
We are innovative and flexible in our approach to client challenges and do what it takes to meet their goals.  And we never, ever think of business people as targets for disjointed and high cost professional services that would benefit the provider more than the target business.
Virtually everything we do is paid for after either debts have been reduced, or revenues increased, with the company's ultimate goal in mind.