How To Deal With A Business Debt Collector
The current recession has led to inadequate sales and out-of-control debt for many small to medium-sized businesses.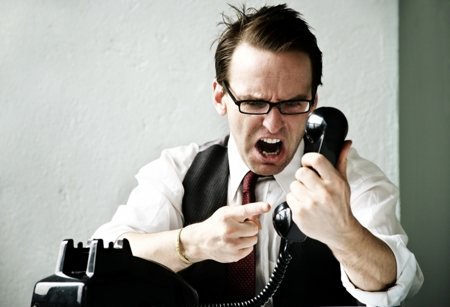 Federal government statistics indicate that, in 2010 alone, delinquency rates on commercial and business loans jumped over 100%.  Business collectors are hurting, too.  Business debts assigned to them were significantly lower in 2011 than from the previous year.  Companies have literally been dropping like flies.
If you, like many other business owners are struggling with a tough debt situation, you or your staff will be faced with the unpleasant reality of having to deal with the consequences.  Constant calls will be interrupting your work day.  You will also be bombarded with dunning notices and threatening letters.  This can be intimidating and counter-productive, just at the time when you need to concentrate your efforts on bringing in new revenues.
You cannot affort to ignore a creditor.  The next step might be for a hungry collector to be assigned the account.  After that, it might very well be passed to a law firm, to file suit.
If you cannot make immediate restitution to the creditor, there are effective ways on how to address problem business debt.
Always remember that, whatever you do, treat all creditors and their agents with the utmost respect and courtesy.  You can only get back on track by communicating clearly and effectively with them. It's common to hear others to speak of collectors as being, "liars, cheats and thieves." This is an unfair characterization for most of the players.
Part of your approach has to let collectors know what your firm can and cannot do. Show a willingness, if asolutely necessary, to share basic financial information with them. Give them a good reputation to live up to and they will likely treat you with the same level of respect and understanding.
Virtually everything is negotiable.  If your company is owed money from another, you would not want to lose the total balance because your customer went out of business.  Most of us would consider taking less – and sometimes much less – if it could be shown that our customer was likely to disappear.  A lot of other factors come into play, such as:
Are the debtor firm's assets all "tied up"?
Do you want their business in future, if they can survive?
Is the cost and effort involved in filing a suit going to be worth it?
Is the debt personally guaranteed?
Collectors generally know how to negotiate.  They will not necessarily make this clear at the outset, because they want to receive full and immediate payment for their efforts.  Put your proposal in writing and fax or email it to them.  The collector will forward it to their client – your creditor.  It will be much more effective than a verbal proposal.  After all, if nothing is in writing, what does the collector have to give to the creditor to support your case?
You will typically propose either a "drop-dead" cents-on-the-dollar settlement, or a payment plan.  If your cash flow projections look too grim, it is unlikely that a creditor will be interested in a long-term stream of settlement payments  But, if properly structured, your proposal has a much better chance of being accepted.
Your creditors will understand the worst case scenario.  Your business may file for bankruptcy or simply close its doors and disappear into the night. Clearly, they do not want to see this happen.  Your best option is likely to either negotiate and settle individual business debts, or do an across-the-board debt workout.  This satisfies creditor needs while giving you a shot at boosting revenues and building a stronger and more resilient business.  And what could be better than that?
If you need help to deal with business debt issues or a particularly troublesome business debt collector, give me a call at 888-701-7888 to discuss.
You can also request a copy of my FREE Report titled, "Discover How To Get Debt Relief For Your Cash Strapped Business." This FREE Report is full of great tips and strategies for getting your business back in the black.