Prints
"Stay the Hell out of Court"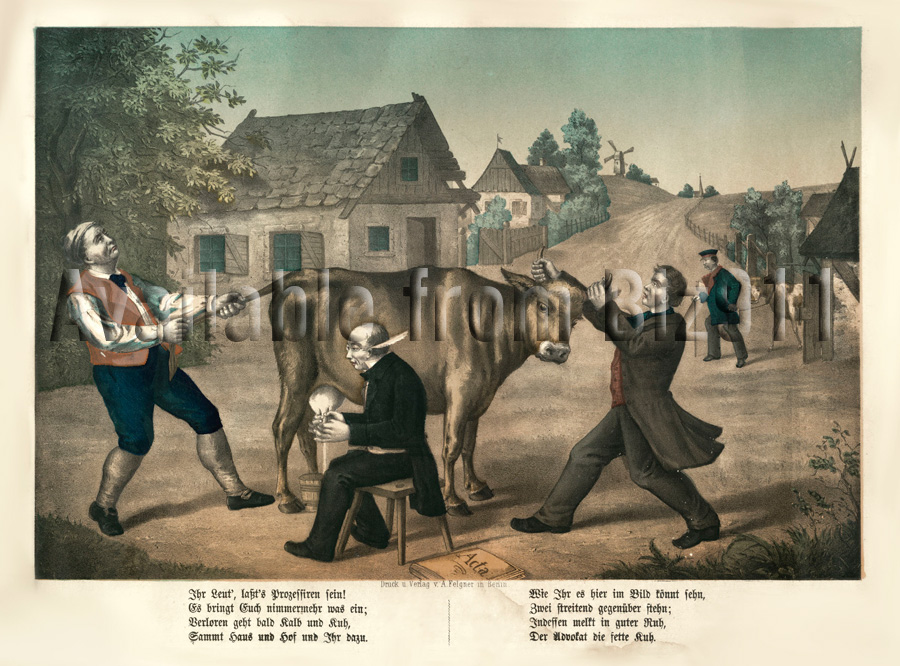 This beautiful old German print illustrates the need to settle disputes amicably and is a perfect talking point for your home or office.  Lawyers, especially, love this image and see the humor in it.
An attorney, quill pen in ear, sits between two warring farmers, calmly milking the disputed cow.  In the background, the sheriff walks off with the unprotected assets.
The caption at the bottom is in Old German script.  It is in the form of a poem which, loosely translated, proclaims:
"People, leave litigation well alone!  You will lose your calf, cow, home and farm and yourself.  As you can see here, two people are fighting with each other whilst the lawyer quietly milks the fat cow."
The print is produced by The Aztec Fine Art Reproduction Company, based in Wilmington, Delaware.  Aztec achieves highest quality reproductions, using the Giclee process.  The resulting high resolution print, on acid-free card stock, has a museum quality two-hundred year archival life.
This item is immediately forwarded to you in a secure container, ready for framing.
Image size: 13 x 17.7 inches (33 x 44.5 cm)
Price: $59.95
Available for Purchase.