Publications
The Battle Scarred Guide to Small Business Debt Relief and Recovery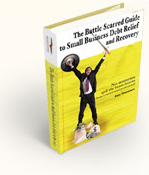 Company co-founder and president, Ken Thomson, has published many articles on turnaround management issues. His new book, The Battle Scarred Guide to Small Business Debt Relief and Recovery, is available on Amazon.com and at book stores everywhere.
This book covers the successful principles used by his firm to protect and turn around the fortunes of companies challenged by tough financial issues. It also shows any business owner – whether or not their firm is in hot water – how to position their business for predictable, systems-driven, wealth-building growth.
.
Business cash flow problem? Seven steps to failure
You know the score.  You get into a protracted cash flow crunch and the next thing that happens, the phone starts flying off the hook with incoming collection calls.  Your receptionist and accounting clerk become desperate and start looking for other employment.  You're too busy doing what it takes to generate revenues to devote time and energy to deal with angry collectors.  And when you do talk to them, their threats and accusations leave you shaken.
The Debt Workout: How to avoid bankruptcy and stay in business
What's your worst nightmare as a creditor?  How about getting a legal notice out of the blue, announcing the bankruptcy of your biggest customer and debtor?  Or a written demand for the return of a "preferential payment" that you had received from your now-bankrupt customer.
Collect your commercial bad debt the easy way … and keep the customer
My Barber is a lucky man.  He receives cash, on time, every time he gives service.  If you don't have the green stuff, you don't go to see him.  No invoices, receivables or collection calls.  George is a happy guy and a constant source of humor.  I suspect it's got to do with his payment terms.  And I bet he'd be upset if you told him, post-trim, that you couldn't pay.
Your Small Business Turnaround
Times are tough, no doubt about it.  Competition has never been greater and consumers are savvier ever.  What does a business do when monthly commitments continue, but there is not enough cash to go round?  What if payables outstrip receivables and your firm can barely meet payroll and is behind with its bank, lease and trade commitments?